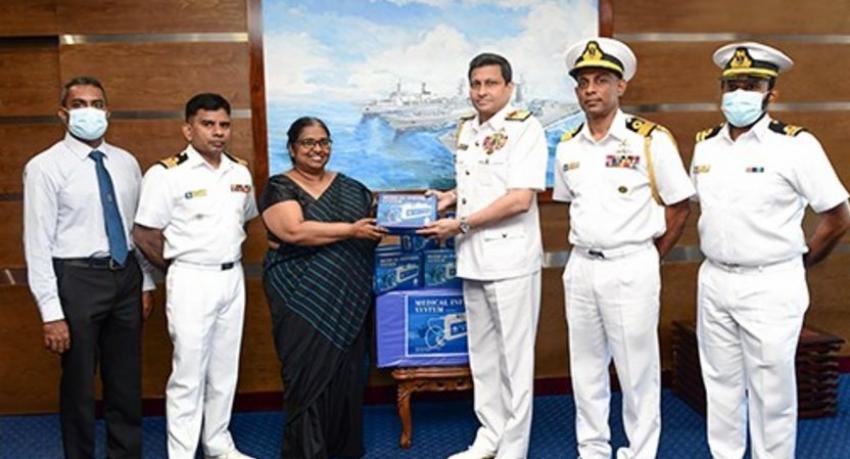 400 Navy-produced thalassemia infusion systems donated to Ministry of Health
COLOMBO (News 1st) – Navy Commander Vice Admiral Nishantha Ulugetenne has symbolically handed over 400 thalassemia infusion sets to the Deputy Director General (Non-Communicable Diseases) of the Ministry of Health, Dr. Champika Wickramasinghe at the headquarters of the Navy on October 19, 2022.
The infusion systems were produced by the Navy's Research and Development Unit, as part of Naval Social Responsibility (NSR) initiatives.
The infusion system is very essential for thalassemia patients for the elimination of excessive iron deposits in the blood collected from the vital organs.
Since the unit price of an infusion system on the market is generally not affordable, in 2011 the Navy decided to manufacture a low-cost thalassemia infusion system.
So far, the Sri Lankan Navy has handed over 2,774 thalassemia infusion sets to major hospitals and screened children with the disease, in stages.
The Navy Research and Development Unit was awarded the CDDA – (Cosmetics Devices & Drugs Regulatory Authority) for the production of Thalassemia Infusion Pumps in 2011. Additionally, the Navy Social Responsibility Initiative Sri -lankaise has been awarded the national award for the best medium-sized manufacturer in Sri Lanka. Institute of Engineers in 2012.
Director of Naval Policy and Plans, Commodore Chinthaka Kumarasinghe, officers from the Navy's Research and Development Unit were on hand for the occasion which saw the symbolic delivery of 400 thalassemia infusion systems.
Recent news