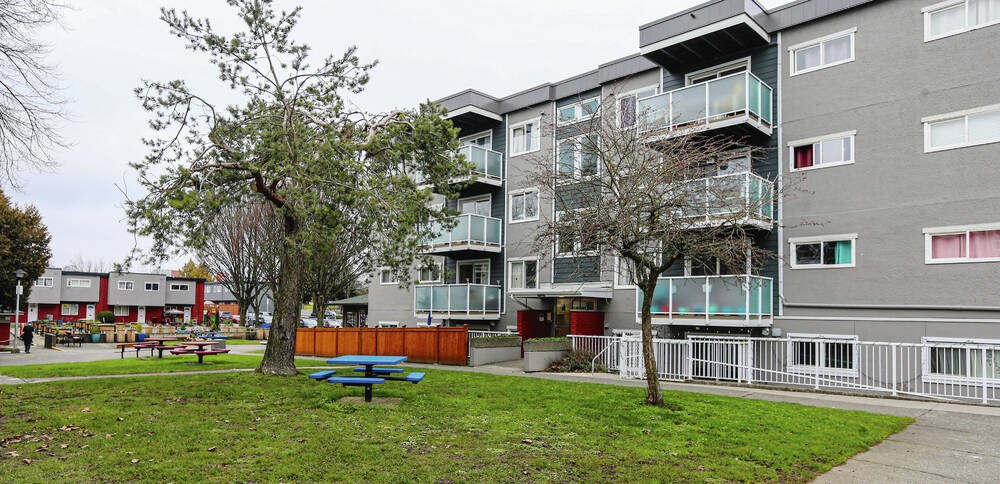 An affordable housing site in Victoria due for major refurbishment
The site needs substantial renovations, says BC Housing, which has just launched a planning and feasibility study
It's been just over half a century since Evergreen Terrace opened 184 affordable housing units on 7.8 acres bordered by Blanshard and Bay streets and Hillside Avenue.
At the time it was called Blanshard Court and it was a key part of what the city called an urban renewal initiative which saw older houses and apartment buildings demolished. It has always been a place for families. All units have at least one bedroom and there is one five bedroom unit.
In 1970, the year it opened, a widowed mother with seven children aged 12 and under told the Daily Colonist that their old accommodation was a "rat hole" and that their new two-story, four-bedroom Blanshard Court unit with a large basement was "Like heaven."
"It's a very good place. It's warm and cozy and there's plenty of room for us.
All levels of government have been involved in the construction of Blanshard Court, one of the last large-scale social housing redevelopment projects built as part of an urban renewal program through the National Housing Act 1954. It is BC Housing's largest affordable housing development in the Capital Region.
But the project is coming to an end. It requires substantial renovations, says BC Housing, which has just launched a planning and feasibility study. A new design will go to Victoria City Hall for rezoning.
The process opens the door to feedback and consultation on what the next generation of Evergreen Terrace will look like. Some aspects are certain: it will have at least the same amount of affordable housing and existing tenants will have a place in the development if they wish.
Should it include higher density areas? Multi-storey buildings? How to better connect with nearby commercial areas? Is there a place for public art? How to use the open space? Should there be allotment gardens? A space dedicated to First Nations? A community market outlet?
To put its size into perspective, the Capital Park mixed-use development near the BC Legislature at James Bay sits on a smaller 6.2-acre site.
One of the challenges of developing affordable housing is the assembly of land, particularly in Greater Victoria where prices can be prohibitive. In this case, BC Housing already owns the large property.
If plans are approved by council, construction in stages could begin in 2024.
Sheryl Peters, BC Housing's Provincial Director of Redevelopment, looks forward to receiving input from individuals and groups, including tenants, social agencies, First Nations, the neighborhood association, city hall and the general public.
At a minimum, the property will have the same number of low-income affordable units as it does now, but not necessarily in the same configuration. It has 175 units, down from previous figures following a fire at a townhouse complex.
The property is also home to the 21-unit Spaken House, which opened on the site in 2020 as temporary supportive housing for Indigenous women. This facility is operated by the Indigenous Coalition to End Homelessness. The spoken house is also part of the new study.
BC Housing anticipates that the new vision for Evergreen Terrace will see an increase in the number of homes, although by how much has not been determined.
Additional units could be developed in taller buildings, Peters said.
David Eby, Attorney General and Minister responsible for housing, said in a statement: "This study will help us to ensure that these families, and we hope even more so, have access to high quality housing on this site."
"Redevelopment of aging rental properties into modern, affordable housing for a range of incomes while ensuring that existing tenants are protected makes everyone better off and promotes the health of the entire community."
BC Housing could seek nonprofit or private sector partners to develop homes, and affordable homeownership could be part of the redevelopment, Peters said.
The project budget has not yet been developed.
Peters said the idea is to upgrade the site with a density conducive to Victoria's development.
As for its appearance, the goal is to make sure it doesn't stand out from a private market development, she said.
"We don't want our customers to feel left out of the community experience. So we expect everything we build to fit seamlessly into the neighborhood and the community. »
Existing tenants will be able to stay in their homes as much as possible until the new units are ready.
The monthly rent for a new unit would not change unless the tenant's income or unit size changed.
For those who cannot stay in their current homes during construction, BC Housing will temporarily relocate them, he said.
Victoria Mayor Lisa Helps said, "The redevelopment of Evergreen Terrace offers the opportunity to increase the supply of much-needed affordable housing in our city.
"We commend BC Housing for taking steps to avoid tenant displacement during redevelopment and for working with the wider community to make this site a model of 21st century livability while providing housing affordable essential.
Due to pandemic restrictions, BC Housing is not immediately scheduling in-person meetings. To connect with BC Housing, ask questions, and sign up for the survey and information, go online to:lettalkhousingbc.ca/victoria-evergreen-terrace.