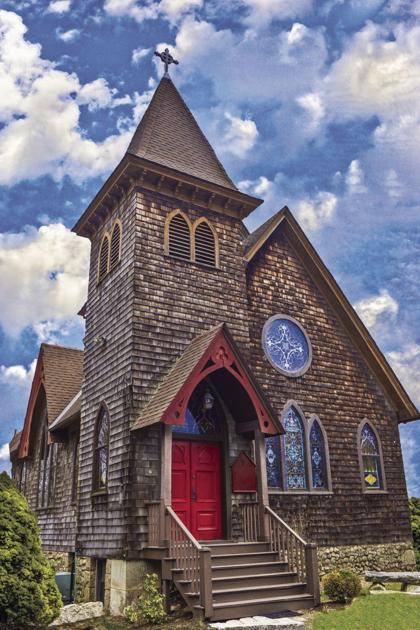 Community Church Announcements | Community news
BLAIRSVILLE – Join the Lutheran Church in Hebron, 195 N. Liberty St., Sunday for "God's Work. Our hands."
Hebron will honor first responders – the firefighters, ambulance and police who serve our community, during our 10:45 am church service, led by Reverend John Smaligo. We celebrate who we are: one church, released in Christ to serve and love our neighbor. Hebron has collected new teddy bears to give to first responders to help children during emergencies. They have also assembled care kits for those seeking help at a local shelter.
All are invited to this service, helping us to give thanks for those who serve in our community. It is a day to celebrate the men and women who freely give their service.
Whatever their vaccination status, wearing a mask is suggested.
ALVERDA – The Christian Church in Alverda will meet for worship from 9:50 a.m. to 10:50 a.m. on Sunday.
Pastor Travis Trimble will deliver the morning message. Communion will be served. Prayer requests and praise, music and communion time will be observed.
The public is invited to join in the worship service.
For more information, call (724) 549-4358.
BLAIRSVILLE – The United Presbyterian Church, 137 N. Walnut St., will hold in-house and online worship with Reverend Timothy Monroe at 11 am Sunday.
The scriptures are James 3: 1-12 and Mark 8: 27-38.
Access to the live broadcast is available on www.r-church.com and via the church's Facebook page.
Sunday school will take place at 9.45 a.m.
Christ Episcopal Church, 902 Philadelphia St., will hold Holy Communion Sundays at 8 a.m. and 10:30 a.m.
The Presbyterian Church of Crete, 25 Brady Road, Indiana, will meet for in-person worship with former pastor Reverend Larry Armstrong at 11 a.m. on Sunday.
The scriptures are Psalm 116: 1-9 and Mark 8: 22-38, and the sermon is titled "Before Everything Else".
You can also tune in to hear the worship service on FM 88.3 in the church parking lot. Everyone is welcome.
Armstrong served the Church in Crete from June 1979 to September 1985. He and Liz are now retired and live in Latrobe.
Sunday school resumes at 9.45am with a study on 2 Samuel 6: 1-19, "David dances before the ark".
HOMER CITY – The United Methodist Church in Homer City will be holding an adult Sunday school at 8:30 a.m. and a service at 9:30 a.m. on Sunday.
This week's sermon, "The Healing Choices of Life: Sustaining Momentum – The Choice to Grow," is based on 2 Corinthians 13: 5.
HOMER CITY – The Homer City United Presbyterian Church, located at 40 E. Elm Street, has services at 11 a.m. on Sundays.
We invite you to join us in praising the Lord for all he has done for us.
INDIANA – Grace United Methodist Church, 50 S. 7th St., will be holding services at 9 and 11 a.m. on Sunday.
Pastor Bill Blair continues the "Making Disciples" sermon series. His message this week is "Our trust," with the writing of John 15: 1-11.
The church choir choir, led by Debra Moore, will sing during the traditional 9 a.m. service. The worship music of the 11 a.m. contemporary service will be conducted by Jonathan Gibbons. The list of cult games is "Only King Forever", "Who You Say I Am", "Way Maker" and "Cornerstone".
The children's church is available during services and the crèche is open all morning.
We invite you to join one of two adult Sunday School classes that meet between worship services at 10:10 am The Live Wire class meets in Room 102 and the Journey class meets in room 208.
Grace UMC is launching a new Sunday school class called "Learn the Bible". It will take place every Sunday in room 205 from September 26.
It is aimed at two groups: 1) Those who don't know anything about the Bible but are eager to learn, and 2) Those who know the Bible but would like a more in-depth understanding of the main characters, timeline and background information. of the first century. life when Jesus entered the scene.
It will be directed by Kenny Schramko. Everyone is welcome.
MARION CENTER – The Presbyterian Church at the Marion Center, 206 High St., will hold service at 10:30 a.m. on Sunday.
Scripture is John 1: 6-13, "REACH FURTHER in darkness with the light of the gospel by caring for and caring for one another in the family of faith." To be clear, there is has real darkness in the world. Our Lord calls us to be the light on the hill above the darkness.
The Lord's Supper will be celebrated.
MARION CENTER – The first United Methodist Church at Marion Center will hold a service at 9:30 a.m. on Sunday.
Join us for our fall series: "Our Favorite Worms". Pastor Erica will deliver a message titled "Bless the Lord".
Scripture is Psalm 103: 1-12.
SHELOCTA – The Shelocta Presbyterian Community Church, 182 S. Ridge Road, invites everyone to join the Sunday worship service at 10 am.
Pastor Kathy Nice continues the September sermon series with "Baggage – Pride Becomes Humility".
Religious services are in person and live on Zoom. Those interested in Zoom should contact the church office at (724) 354-2352 for more details.
Members of Calvary Bible Church invite the community to their Sunday services.
Worship is at 11 a.m. Pastor John Traxler will deliver the "A Tribute to the Heroes" message.
Sunday school is at 10 a.m., with a focus on Revelation chapter 18. There will be a prayer meeting and Bible study at 6:00 p.m. with the message "Christian Comfort".
For more information, call (814) 743-5448. The church is located at 2712 Pinevale Road, between East Run and Rochester Mills.
COURAGE and Cancer meeting
The monthly COURAGE and Cancer support group meeting will be held Sunday at 3 p.m. at the Grace United Methodist Church Visitor Center.
The presenter will be Loren Stephenson, a certified yoga instructor from the Amazing Yoga Studio of Pittsburgh.
No matter what we go through in life, she firmly believes that the practice of yoga can positively contribute to the development of mind, body and soul. All participants will have the opportunity to learn chair yoga.
Grace United Methodist Church is located at the corner of Seventh and Church streets, Indiana. (Parking behind the church.) For more information, please call Sue at (724) 422-5942, Kathy at (724) 463-8535 ext. 13, or Natalie at (724) 388-3929.
Food distribution while driving
For the past five months, the Zion Lutheran Church's community pantry has been operating behind the wheel. Food is distributed only to residents of Indiana County on the third Saturday of each month. Participants stay in their vehicle throughout the process.
This month, food will be distributed from 10 a.m. to noon on September 18. As usual, participants will drive through the rear parking lot of the church, located at 100 S. Sixth St. They are reminded not to block the roadway or the exit from the parking lot. .
No registration or income document is required to receive food bags through the vehicle window. Names are not registered, but the number of families is counted. Up to two families in the same vehicle can receive food, but one person from each family must be present. Wearing a mask is compulsory for everyone's safety.
BLAIRSVILLE – Online Sunday School classes for kids will continue through the fall at the Lutheran Church in Hebron.
Each Sunday morning, a lesson will be posted on the church's Facebook page by Reverend John Smaligo. This post can be viewed at any time of the week. Please join in this brief learning time. Spread the word with your family and friends.
Sunday School for adults will be back at 9:30 a.m. on September 19. We will be watching "The Chosen," the very first multi-season show on the life of Christ. Everyone is welcome.
Starting Wednesday at 11:30 am, Smaligo will lead a Bible study. Each participant is invited to bring lunch in a brown bag as we engage in Bible study and conversation.
Whatever their vaccination status, masks are in demand.
Planned annual craft fair
PENN RUN – The Penn Run Christian Outreach Center, a ministry of the Penn Run Church of the Brethren, will be holding its annual Holiday Craft Show from 9 a.m. to 2 p.m. on Saturday, November 13. The center is located at 75 Grace Church Road, just off Route 553 behind the church.
Organizers are looking for home parties and artisans for the event. More than 50 themed baskets will be auctioned off from 9 a.m. to 11:30 a.m., followed by a pie auction at noon.
The church will have their almost famous house soup sale with house vegetable beef and chicken noodles available by bowl, pint and quarter.
Breakfast and lunch items will be sold as well as bake sale items.
For more information regarding spaces, contact Lori Fackler at (724) 349-2929 before 9 p.m. or at [email protected]