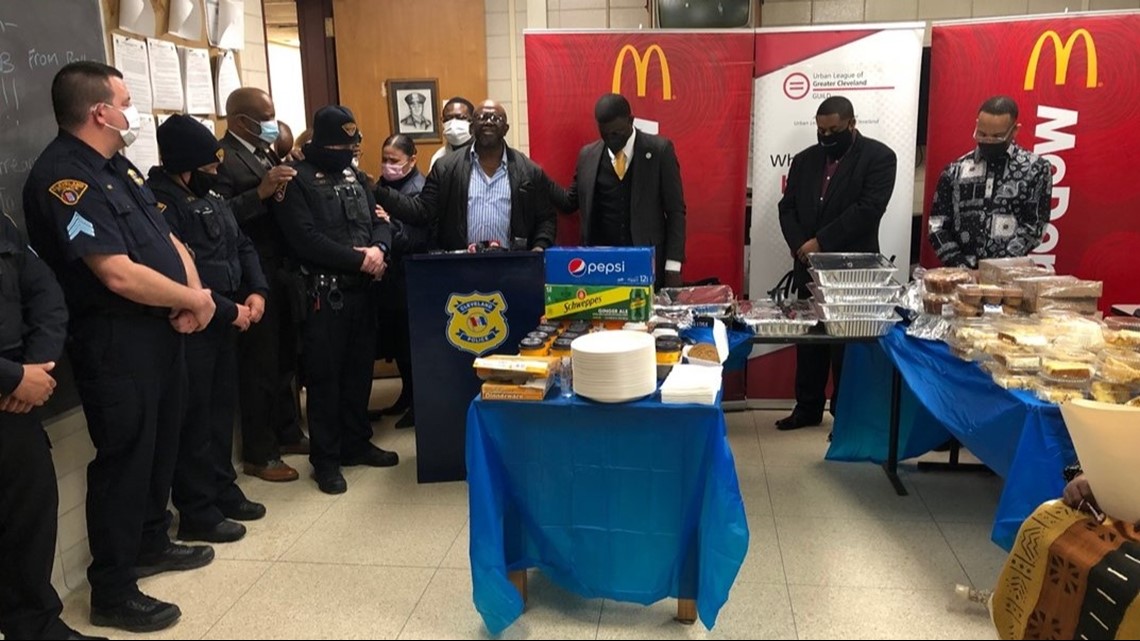 Community groups provide lunch to police in honor of Shane Bartek
CLEVELAND — As the Cleveland Police Division continues to mourn the death of Officer Shane Bartek, members of the community came together Thursday to show their support for his comrades.
The City of Cleveland Community Relations Board was joined by several community groups for a lunch and prayer held at the Fifth District Police Station where Bartek was assigned.
Among those gathered in the small dining room was Bartek's partner, Officer Neil Hawkins. "He needs special feelings and understanding," Cleveland pastor Jimmy Gates said of Hawkins at the event. "We don't know how he feels, but we will pray that God will exercise special care and appreciation for your work that you have done in this community."
Cleveland's acting director of community relations Grady Stevenson and anti-violence activist Yvonne Pointer were also present at the luncheon. They thanked the officers for their work and pledged to help them make the streets safer. "We just want you to know in the community that we love you and appreciate you," Pointer told officers.
Since Constable Bartek's death, community leaders have also raised money for the Cleveland Police Heroes Fund to help his family pay for funeral and other expenses. Bartek, 25, was fatally shot on New Year's Eve while off duty in the parking lot of an apartment complex in the 4300 block of Rocky River Drive. He was a two-year veteran with the Cleveland Police Division.
Organizations that participated in Thursday's support event included the Jeff Brown Show, Hope Haven, the Urban League of Greater Cleveland Guild and McDonald's.