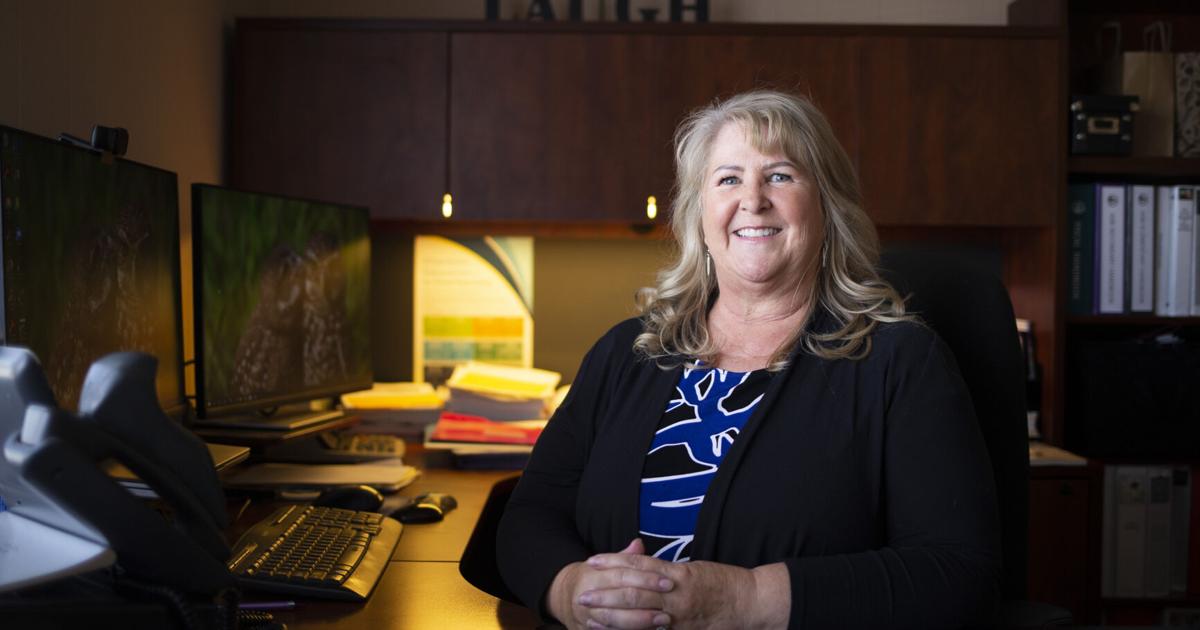 Community Q&A: YSD Chief Financial Officer Becky Nissen Retires After More Than Two Decades of Service | Education
Becky Nissen has worked at the Yakima School District for over two decades, where she has served as Director of Payroll, Director of Financial Services, and is now Executive Director of Finance.
An accountant by training, Nissen has worked for Educational Services District 105 and YSD since 1989. She has seen superintendents come and go and enjoyed working for Yakima County's largest school district, which she helped guide through the COVID-19 pandemic.
Nissen's service to YSD and its students was applauded statewide. Nissen and his team at YSD received a rare Stewardship Award from the State Auditor on August 1 for their exemplary work.
She will retire at the end of August, two months shy of 22 consecutive years with the school district. The Yakima Herald-Republic interviewed Nissen about his work and accomplishments.
What persuaded you to work in education, to take on these roles? What made this appealing?
When I graduated from university in 1987, I went to work in private accounting. Things have happened in this company. I needed to leave. I saw the job posting for Yakima and it sounded interesting. Retirement specialist? Cash accountant? It's up to accounting.
Once you start working for K-12 and use your expertise, you support those closest to students: teachers and students. What better place to work and use your expertise?
What was the Yakima School District like when you started and how do you think it has changed in over two decades?
When I started in 1989, I don't know all the federal laws that were in place, but I do know that the district had a mandate to racially balance schools. They had a superintendent they had for many years, he was very, very nice. The superintendent retired, they hired a new one, with a completely different personality from the previous one. They started what were called magnet schools. They started trying to attract children to different magnet schools. Those are since goodbye. It's a bit like what was happening in the neighborhood at the time.
Fast forward to 2000. In 1997-98, the district experienced a double levy failure. I wasn't here, I was at the (District of Educational Services) then, so I came back right after they recovered from the double tap failure. Things were back to almost normal. When you lose levy funding in a district like ours, you also lose what is called local effort assistance money. They had suffered a great loss when voters failed to pass the levy, but they were in recovery mode and things were picking up again. Since that time, voters have absolutely supported our levies. We now have four-year levies.
We've had one, two, three, four superintendents since I came back here in 2000. We've had four superintendents, with Dr. (Trevor) Greene now leading the charge. Every time you have leadership changes, different initiatives come up and things change. In the world of finance, we've always been pretty stable as a district.
There was a time when the district would give us money to trade for state money because the state was in trouble. I think it may have been 2006. The initiative from above, at the superintendent level, was to save all jobs. So we did. We have tried to combine our funding sources to keep all our jobs. We did not lose any jobs during this period. It was a tumultuous time for a lot of districts, but we were strong enough to keep going.
We have always done that, including with the pandemic. We've gotten a lot of dollars from ESSER (elementary and secondary school emergency relief) and we've been able to keep people employed and that's a real feather in the hat, if you will, for the school district of Yakima. We care about people and we care about their money and their lives and their job retention.
You are now the executive director of finance; you have worked with several superintendents. What do you think makes someone a good leader?
Take care of the people who support you, your team. Just caring about them as individuals is probably one of the highest things you can do for people. Accompany them wherever their career may take them. It may not always be with the Yakima School District, but wherever they land, I'm happy to support them. I have experienced this throughout my career and I am always grateful to the people who have supported me.
What does your job look like?
As Executive Director, I sit at the superintendent's cabinet level, helping to be a teammate at that level and supporting Superintendent Greene and all assistant superintendents. As someone who knows the funding streams and knows all the initiatives, laws, rules and regulations, I can help sort out new initiatives they want to implement for the district and make sure those things have a source funding available or we're starting to figure these things out.
Here in the finance and payroll office, we do everything from paying all staff, paying all bills, applying for grants, managing all purchases. We do all the budgeting, year-end closing, year-end financial statements.
Were there times when ideas were on the table and you helped bring them to life?
Long-term program planning…working with Dr. Jenny Rodriguez on teaching and learning, understanding her long-term plan that she developed and how we set aside funds so that funds are available at the time to adopt the curriculum. Ensure that these funds are protected. Ensuring funds are directed towards student learning and making sure they are available to students is essential. We don't exist without students coming to our doors, so make sure the funding goes to buildings, students, teaching and learning, and those initiatives.
Can you talk about the pandemic and the challenges you faced at the time?
We had no idea what to do. We had to move to individual student laptops, we had to bring teachers to a platform that they could teach kids while they were at home. We had to find access points for people who didn't have internet – lots of money, lots of expenses, cleaning buildings, buying all supplies.
Luckily, we had help from FEMA (through the CARES Act) to do this, which was some interesting navigation. In the end, along the way, we received more ESSER dollars – ESSER II and ESSER III. ESSER II was to safely open your buildings and get your kids back to school if you could. There is a part of ESSER III that is intended for learning recovery. Over time, all of these things came to light. The children suffered from serious mental health problems, being absent from school was seen as a negative. Without forgetting to pivot our financial processes.
We are lucky to have the funds from ESSER, but it also gives us the false impression that we have a lot of money to help us. We are doing it, but it will come to an end.
We have positive points, like the return of children to schools this year, which is good. We have opened an online K-5 to support the youngest. We still have kids taking school online, parents are not ready to send them away.
We have many initiatives that we have been able to achieve with ESSER funds, such as the opening of our downtown health cooperative, the Howie Center. I think the Yakima School District has made some very good decisions with ESSER money to help support schools during this pandemic time.
Are these expiring ESSER funds the biggest challenge facing the Yakima School District from a financial perspective?
The biggest challenge, yes, but even more so, I think, is the drop in enrollment – ​​knowing where these kids are and getting them back to school if they're still in the community. Maybe they moved. It's a challenge. We are way off the west side in terms of student enrollment loss, but that is having an impact on finances.
There will be no replacement dollars at this point for state government depletion of ESSER. It will be interesting to see what happens when our legislators return to session, the impact on schools. They made a House bill to give more mental health supports gradually over time. This is really essential funding that goes to schools to recruit more mental health nurses and counselors for our children.
As long as they don't take money, I think Yakima will be fine. We tried to create with the 2022-23 budget a slope rather than a cliff. They always talk about a funding cap when the funding is going to go away, so we're very aware of that.
If I had a magic wand, I'd wave it and our state would step in and still support the schools, but we in Washington depend on the levy and bond vote. We can't build a building without the ratepayers approving a bond. If I had a magic wand, it would go away and the state would have a source of funding for schools. We wouldn't have to beg our community.
But I am confident. Our constituents have always supported the district. We have done great things. I paid off three bond initiatives that built our new high school – Eisenhower, Stanton, remodeled Davis. We recently redeemed some of these issues and took advantage of low interest rates, saving our taxpayers over $8 million.
I love that we were able to do this and that our board supports this kind of activity here from the finance office. It's a lot of work, but it's worth it in the end, if you can be a good steward of taxpayers' money.