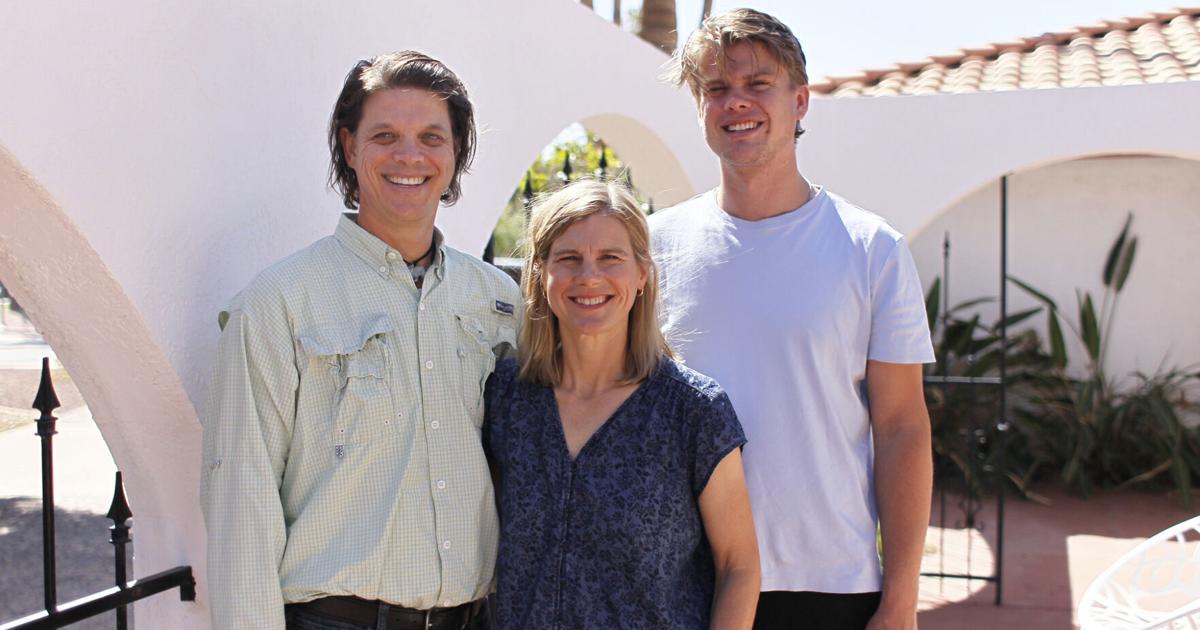 Mesa Couple Recall 9/11 Horror |
A changing wind turned a sad day into a sobering memory. In September 2001, Adam and Sara Anderson were living in uptown Manhattan with their first son. The young couple were two days away from celebrating their first anniversary when suddenly their world fell under the shadow of tragedy. Twenty-one years later, they honor the lives lost on that fateful day with their own sense of community service.
"It's a day we could spend commemorating the World Trade Center attacks in so many ways," Sara said. "But we decide to spend it doing service to promote community unity."
In September 2001, Adam attended Columbia Law School and said he remembered starting 9/11 studying with his classmates and then they heard the news.
Adam said the students crowded around the TV and the room became an amalgamation of people at home, talking about how their summer jobs were at the Twin Towers and while wondering about the current state of the country.
"There was obviously a lot of emotion, 'what's happening to our country and our city,'" Adam said.
Although he doesn't remember exactly what happened at the time, Adam said he became filled with the urge to rush home with his wife Sara and their infant son, Adam. .
"I have to go home with my wife and child," Adam said.
Sara said she spent the day at home looking after little Adam and remembers watching the moment the twin towers collapsed on The Today Show.
At that moment, her new maternal instincts kicked in and she braced herself for the eventuality of evacuating the city.
"I got dressed and put my shoes on," Sara said. "And I remember thinking, I have to be ready in case we need to race."
Luckily, the young couple didn't need to evacuate and later reunited at their apartment in Morningside Heights.
The couple said they spent the rest of the day looking for hospitals to donate blood, but they received a strange and devastating response.
"There were no survivors who needed blood and they were sending people away who were giving blood, which was also sobering," Sara said.
Immediately afterwards, the couple said they also remembered people visiting fire stations and leaving tokens of appreciation and gratitude.
"It was a time when people were obviously in mourning and in shock, but as a result of this people were united in grief," Adam said.
A few days after the attacks, the young couple invited friends to their apartment to celebrate their little Adam's first birthday.
"We just sat and kind of looked at each other," Sara said.
Suddenly, a sobering wind blew their direction.
Winds had initially blown ground zero dust out to sea, but eventually shifted north and that cloud of ash from the toppled twin towers moved to their downtown apartment.
Adam said he couldn't remember how long the poor air quality lasted, but it was a sobering reminder as he celebrated his son's first birthday that they were standing "in shadow of this tragedy".
As the air cleared, the most vivid memory of that day, which Adam said he remembered, was the sound of a buzzing city, car horns blaring and people shouting suddenly dropped completely to dish.
Anderson said he remembered the day the city fell silent in shock, but in the aftermath he saw people united in mourning.
"All these years later, it's the hope that we can continue to come together without the tragedy," Adam said. "But maybe by remembering the tragedy, we can come together, worry about our neighbour, think about our community and work together to make things better."
Twenty-one years later, the couple now live in Mesa and will celebrate 24 years of marriage in December with their six children.
The couple moved to Arizona in 2005 where Adam Sr. worked for Beus Gilbert PLLC in Scottsdale for six years.
In 2011, Adam Sr. left the firm to start his own which eventually became the law firm Anderson Banta Clarkson in Mesa.
Set to turn 22 this month, Adam Jr. will return to school this month at Brigham Young University-Idaho where he is majoring in English.
Although he doesn't remember that day, Adam Jr. said his parents taught him and his siblings about the citywide boosted unity immediately afterwards.
"It is difficult to remember the events
it made it possible…but the service kind of helps us remember that," Adam Jr. said. "Right after that, a lot of people got together and started helping in any way they could."
This sense of community has continued over the years and has become a family tradition for the Andersons.
The family began volunteering with the JustServe organization when it opened opportunities in Arizona in 2014.
Just a month ago, the couple started their new role as Community Outreach Specialist for JustServe.
The nonprofit organization encourages people to participate in community service by providing a one-stop shop connecting volunteers to local service opportunities.
Sara said this is the second year JustServe in Arizona has partnered with the 9/11 organization as part of its stated mission.
The mission of the nonprofit organization 9/11 Day encourages Americans to volunteer, support charities, and help others "in the spirit of remembrance, unity, and service."
Sara said she supported this because it added to the general idea of ​​never forgetting in that "we can do something productive, useful, hopeful with memories".
This year, the couple decided to volunteer twice for the 21st anniversary of 9/11.
The Adam Sr. and Sara will participate in a Usery Mountain Trail Maintenance on September 8 to perform Buckhorn Campground Nature Trail Maintenance.
Then, with four of their children still at home this month, the family will assemble ready-to-eat frozen meals for the nonprofit A New Leaf.
"We're trying to get them to serve in a meaningful way, but that won't resent them either," Adam said.
For more information or to find year-round volunteers, visit www.JustServe.org