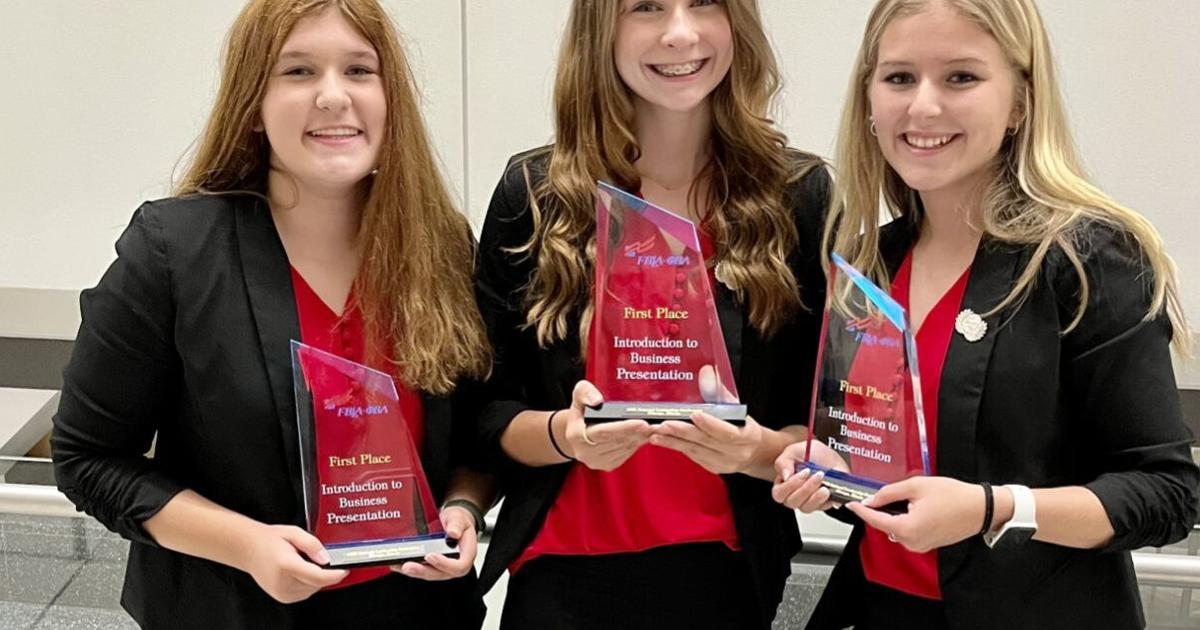 NBC Wins Nationals, Ridge, CK Places Too |
Northern Bedford County High School's Future Business Leaders of America won a national title and fourth place at the National Leadership Conference.
Students from Chestnut Ridge and Claysburg Kimmel also participated.
Northern Bedford's freshman team won the national title in Introduction to Business Presentation. The team of Aleah Loose, Jaylyn Resh and Avery Aungst also won regionals and states on the way to nationals.
"It was amazing. It's something that's pretty rare to win at any level, let alone three girls in ninth grade. I knew it was a good presentation, she won States, but Nationals have so many good competitors," said Northern Bedford FBLA councilor Garry Black.
The fourth-place Northern Bedford team consisted of Jacob Sensenig, Alexandrea Griffith and Matthew Hall. The team placed in the American Enterprise Project. They taught different lessons in elementary school and middle school. They brought together guest speakers at the high school and participated in mock interviews and different activities.
"Fourth place in the country is definitely no small feat. I'm glad I was able to do this with my team," Sensenig said. Black called Sensenig one of the most successful students in the FBLA for school with two national championship placements and three qualifiers.
Claysburg-Kimmel and Chestnut Ridge were also present.
The national championships were held June 27-July 3 in Chicago. Schools traveled to Nationals and spent the week in the city. The students visited many landmarks and attractions in Chicago.
All three schools have faced the challenge of not having an in-person national conference in recent years as COVID-19 caused a hiatus in in-person competition. Last year's national championships were set up virtually, with some categories being live on Zoom and others being pre-recorded and sent.
"It was a lot more work and preparation," Sensenig said of how this year's national championships compare to last year.
Claysburg saw Bailey Garver honored as Who's Who of the Parade of States. Garver is a four-time national conference qualifier, a two-time state officer, and a member of the FBLA board of directors.
Claysburg-Kimmel's community service project, "Hunger Heroes," placed sixth at the conference. The team members were Aidan Barr, Rebekah Claar and Garver. The other members of the CK chapter helped the team. The project aimed to educate the student body about food issues with the student community, inspire classmates to donate food, and help those in need in the community.
Hunger Heroes has reached about 45% of Claysburg's population and distributed more than $10,000 in donations over the past year, according to Claysburg FBLA Councilman Steve Walter.
"I'm also very proud of The Hunger Heroes for their hundreds of hours of community service to better the lives of others," Walter said.
A total of 18 Claysburg-Kimmel FBLA members attended the conference. Seniors included Barr, Cassie Berkhimer, Claar, Ethan Diehl, Garver, Alyson Jenkins, McKenna Patterson and Jessen Poullos.
Walter said, "I'm so proud of this group for their many accomplishments this year. Senior leadership has kept our chapter together for two years in the virtual world thanks to COVID. They will definitely be missed," Walter said.
Poullos competed in Business Ethics, Berkhimer, Jenkins and Patterson competed as a team in Corporate Financial Plan, Barr and Diehl competed in Data Analysis.
The juniors present were Taylor Conrad, Sarah Helsel, Emma Gill, Taylor Mowry and Erica Norotsky.
Conrad competed with Diehl and Patterson in the Local's Annual Business Report, Mowry competed in Public Speaking, Norotsky competed in Publication Design, Gill and Helsel competed in Service Announcement audience, Conrad competed with Garver and Claar in the sales presentation.
Sophomores Cameron Claycomb and Sarah Hypes attended, along with rookie Layla Diehl.
Claycomb and Hypes participated in the introduction to the sales presentation.
Claysburg had two eighth graders participate in the conference, McKenna Black participated in Elevator Speech, and Launa Musselman participated in Exploring Business Issues.
Claysburg-Kimmel was recognized as a Gold Seal Chapter for the 10th consecutive year and was announced as one of Pennsylvania's Champion Chapters.
Walter said, "Thank you to our parents for organizing the fundraiser and to the CK Education Foundation for helping fund the trip to Chicago. Finally, we are very grateful for the support of the community and the support of the administration this year to provide these children with so many opportunities and memories.
A Chestnut Ridge team consisting of Shelbi Sabo, Aiden Mannion, Ava Whysong, Savanna Webb and Abby Lukehart placed second in the parliamentary proceedings.
Kaitlyn Herman, Rhianna Dunn, Emmy Stiles and Aubrie Hetherington also participated as a team in parliamentary proceedings.
The teams studied Robert's Rules of Order Newly Revised. At the Nationals, they took a 100-question test on FBLA National Rules and Bylaws.
Other members of Chestnut Ridge included Hannah Smith and Meghan Restly in Introduction to Social Media Strategy. Hailey Miller and Izzy Giovanelli participated in the American Enterprise Project and Evan Shaffer in Broadcast Journalism.
"They did amazing things. It's been three years since competing in person, most haven't been in person to nationals and had no idea the caliber of their competitors. I'm incredibly proud of everyone and the hard work they put in," said Chestnut Ridge Councilor Melissa McDonald.
The three local schools were part of a delegation of more than 500 people from Pennsylvania.