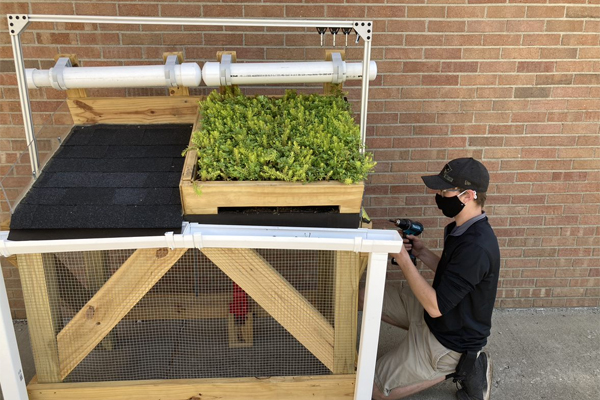 OHIO students educate the community on green roofs
Joel Compston puts the finishing touches on a model delivered to Alexander High School in May 2021. The models have been adapted for indoor or outdoor use, depending on the needs of the school. Photo by Dr. Kim Thompson.
Ohio University students are bringing their voices, role models and even coloring books into the local community to demonstrate the benefits of green roofs to area children and families.
Green Roof education can stimulate cross-disciplinary collaborations among students and serve the community. Our roof models and a video that captures their storyhelped make these green roofs more accessible to the community and school children in the area.
The first models of green roofing
This effort began when the Green Initiative Student Organization and the Renaissance Engineers came together in 2019 to develop interactive models that would help children discover the benefits of green roofs. They created a variety of small systems that could be taken to schools and STEM events aimed at 3-18 year olds. Undergraduate students studying plant biology, environmental studies, civil engineering, education, communications, and other fields bolstered the effort by contributing coloring sheets, activity pages, and their enthusiasm during these events and take photos and videos at events.
Most recently, models and other educational activities were shared on Saturday, March 19, when Green Initiative and Plant Club members participated in a family science day sponsored by Alpha Chi Sigma, a national fraternity for chemistry students. .
"I think it's so important to allow children to start hearing about these issues early on and the different things we can do to help them. Even if they don't fully understand it, it's so important for them to know that our environment, our plants and our ecosystems are our friends, not our enemies," said Sam McAvoy, an environmental biology student who helped prepare the material for this event.
Sarah Maracz's exhibition on the importance of insects for our environment further illustrated this feeling.
Each set of educational roof models features a shingled and planted surface that allows students to measure how water drains faster on a permeable green roof compared to a flat roof. Children use thermometers to measure the temperature inside the models when exposed to heat and when the heat is turned off. They observe a faster increase inside the "house" with a traditional roof and a more stable temperature under the green roof.
Towards larger models
The small models had been so well received that Rachel Modzelewski, now a Russ College alumnus, focused her senior mechanical engineering design project on creating large models that could be donated to schools.
Under the guidance of Dr. Greg Kremer and other professors, Modzelewski and his team (Tiffany Hill, Cole Neuhart, and Pablo Beierle-Joliot) spent a great deal of time designing and testing the prototype. They weren't able to build it before the pandemic shut down much of the university, but completed detailed designs so other engineering students could complete the project.
Mechanical engineering students Joel Compston and Kyle Dunlap built the models before graduating in 2021.
Seven regional middle and high schools and the open-air museum received a donated rooftop kit, complete with instruments that would help teachers engage their students in science studies. This was made possible with funds from the Academic Innovation Accelerator and the PepsiCo Zero Impact Fund.
Vinton County Middle School sixth graders were the first group to receive and use the model under the guidance of their teacher, Shem Smith. Many students gained experience creating graphs for the first time by measuring temperature changes on both roofs over time. They also compared the amount of water runoff from simulated rainfall on each surface.
"I can't wait to see the students see firsthand how a rooftop garden can affect the environment. I want the students to test some of their ideas using the model. I want students to see how we can use models to help us understand how science works," said Athens middle school teacher Mary Ann Hopple.
Documenting the Green Roof Saga
Steel Brooks, a graduate student from Scripps College, School of Visual Communication, began filming and photographing the production and delivery of the large models. Brooks has worked for the Office of Sustainability as a Living Hub Graduate Assistant since 2020.
The video depicts the variety of designs that have sparked the interest of children, undergraduates and graduate students around Athens. This shared effort by Russ College of Engineering, College of Arts and Sciences, Scripps College of Communication and Patton College of Education will have lasting impacts on children in our community as they engage in scientific thinking.
Learn more on the Green Roof Project website.