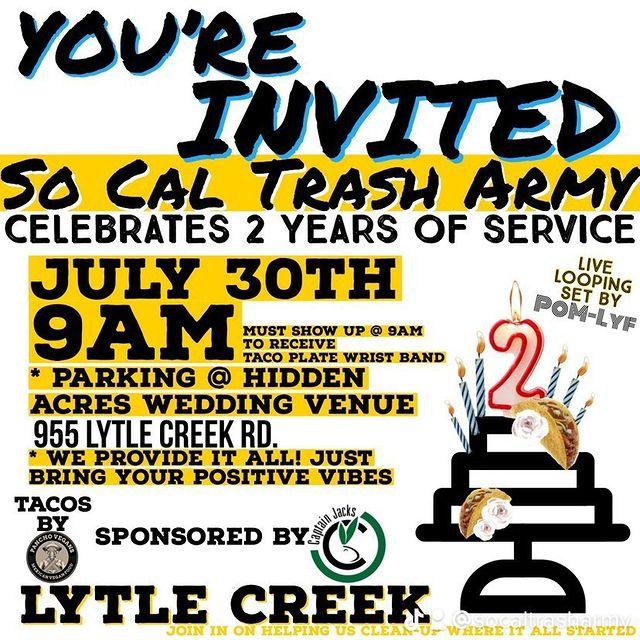 So Cal Trash Army Prepares to Celebrate 2 Years of Holistic Community Service
Redlands Junk Removal partners with So Cal Trash Army to lend a hand at the event
A local grassroots organization focused on community service, So Cal Trash Army, is delighted to announce that they will be hosting a community trash cleanup event to celebrate 2 years of holistic community service. Thus, Cal Trash Army is renowned for providing first-rate selfless service to the community through cleanups, support for community gardens, and food distribution.
The event is scheduled to take place July 30, 2022 at 9:00 a.m. at the Hidden Acres Wedding Venue, 955 Lytle Creek Road, Lytle Creek, CA 92358.
In partnership with So Cal Trash Army, Redlands Junk Removal will lend their waste hauling equipment, trailer, truck and workforce to the success of the event. Redlands Junk Removal is a family owned business based in Redlands, CA and serving The Inland Empire, removing junk, trash, building material scraps and disposing of them in a safe and professional manner.
The Community Trash Cleanup Event will provide residents with an incredible opportunity to connect, build relationships, and implement strategies to save natural spaces, protect the San Bernardino National Forest, and preserve the environment. To ensure a good experience at the event, people are required to bring clothes that can get dirty easily, sunscreen, hat, sunglasses, garbage collectors, towels, swimwear bath, water shoes and chairs. As an added perk, the first 100 people to attend the event between 9-9:30 a.m. will receive a taco wristband to redeem for a free first 100-person plate of tacos from Poncho Vegans, sponsored by Captain Jacks.
This event is proudly sponsored by Captain Jacks, several other partners will add their unique spices to make the event colorful and exceptional. These partners include Cafe Organix, which serves delicious morning starter drinks and vegan food, Pancho Vegans for amazing taco plates and vegan Mexican food, Redlands Junk Removal and US Forest Service for supplies and service. cleaning, and Hidden Acres Events for parking and event hosting.
The event will be adventurous as attendees will change locations after the cleanup to reconnect, eat, have fun and hang out. This is a can't-miss event designed to foster unity and facilitate community service.
"On Saturday we will come together in unity, in a collective effort to keep Lytle Creek beautiful. After 2 years of dedicated service to the earth, we are going to celebrate," said Kristen Malaby, Founder of So Cal Trash Army.
For more information visit https://www.instagram.com/socaltrasharmy/
Media Contact
Company Name: So Cal Trash Army
Contact person: Kristen Malaby
E-mail: Send an email
Country: United States
Website: https://www.instagram.com/socaltrasharmy/