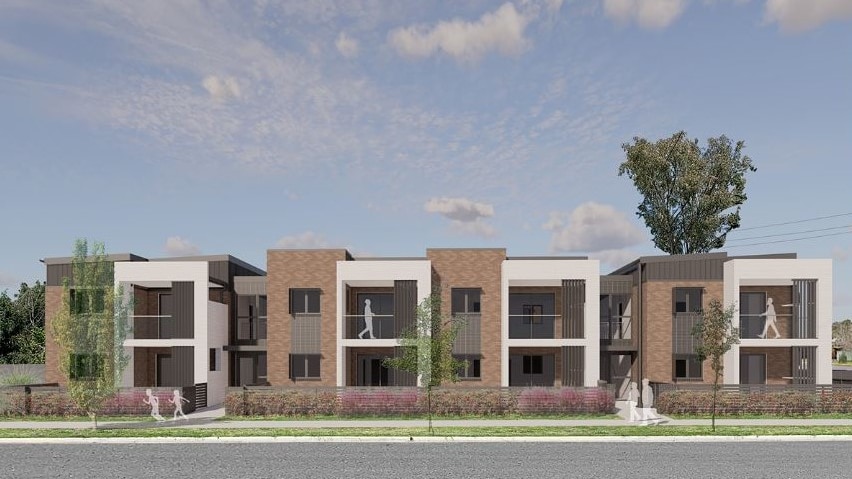 Social housing solutions in East Albury create tension with residents
In East Albury, at the corner of East and Alexandra streets, there are five old houses with shuttered windows, the grass growing long, graffiti on the fences and trash on the steps.
Key points:
There is a plan to build 24 social housing units on the site of five disused houses in East Albury
Some residents are concerned about the presence of social housing nearby and the lack of consultation
Mercy Connect warns against using 'divisive language' about potential social housing residents
The lots used to be social housing but have since been vacated.
They were high on the agenda of a new deal between Albury City Council and the New South Wales Government's Land and Housing Council.
The agreement aims for the municipality to deliver 540 new public housing units and 700 units for the private market by 2032.
One of the first items on the agenda is a major overhaul of these existing properties to create a new 24-unit social housing complex.
"We have been talking for several months across our community about the housing crisis and the impact of the real challenges for people finding housing," said Albury MP Justin Clancy.
Data from Corelogic showed house prices in Albury jumped 33% in a year, and Mercy Connect chief executive Trent Dean said they were seeing the ripple effects on rental prices.
"It's fair to say that there is a growing risk of homelessness in our area," Mr Dean said.
Community fears
Not everyone in the community is happy with the proposed development.
There were groups of very unhappy residents at a walk-in information session in East Albury this week.
The phrase "antisocial behavior" was heard repeatedly in the small PCYC meeting room in Albury.
Shirley Williams and Ian Hiles live near the proposed new development, having moved there around five years ago.
They feared the new development would lead to increased crime and disruption, which they said lived "constantly" in other council housing nearby.
"The fear is, 'who goes in there?' Because once they do that, we'll have to live with it," Ms Williams said.
Ms Williams said she felt the project was 'dropped' in their area as it already had a lot of problems.
"People need a place [to go]but don't put it on just because we're in a low socio-economic area," she said.
The couple were also frustrated with the housing council's consultation process, saying they felt it was already a 'done deal'.
"We watched them [at the properties] doing their planning, not knowing what they were doing. They never came to talk to anyone," Ms Williams said.
But Albury Councilor Jess Kellahan said this was just the start of the consultation process.
Ms Kellahan was at the meeting to hear the feelings of the community and learn more about the council, as she was also concerned about the location of the accommodation.
"I would like to see housing scattered throughout a community, integrated seamlessly, rather than all in one place," Ms. Kellahan said.
"I think the accommodations they offer, in isolation, look fantastic. They meet the needs. But in the context of the whole [of the area] I think you have to look at it from a long-term perspective."
"outdated" thinking
"I'm thinking of the acronym NIMBY, or Not In My Backyard," said Mercy Connect's Trent Dean.
Mr Dean said he was concerned about some of the "dividing" terms that can arise when debates about social housing begin in the community.
"These are people who need housing and pushing them away, taking them away from social supports, taking them away from infrastructure, taking them away from the local community, that's only going to exacerbate the problem," he said.
Social housing placement was important, he said, because if support services knew where people were, they could be sure they were getting the support they needed.
And ultimately, he said, many people operate on "outdated" ideas of who lives in social housing, and that needs to change.
"It could be a woman over 55 who has found herself divorced, a young person ostracized by homophobia or family breakdown, or a mother who has been the victim of domestic violence," he said. declared.
"It could be your son, it could be your daughter, it could be your mother. It could be anyone. Any of us could experience it at any time."