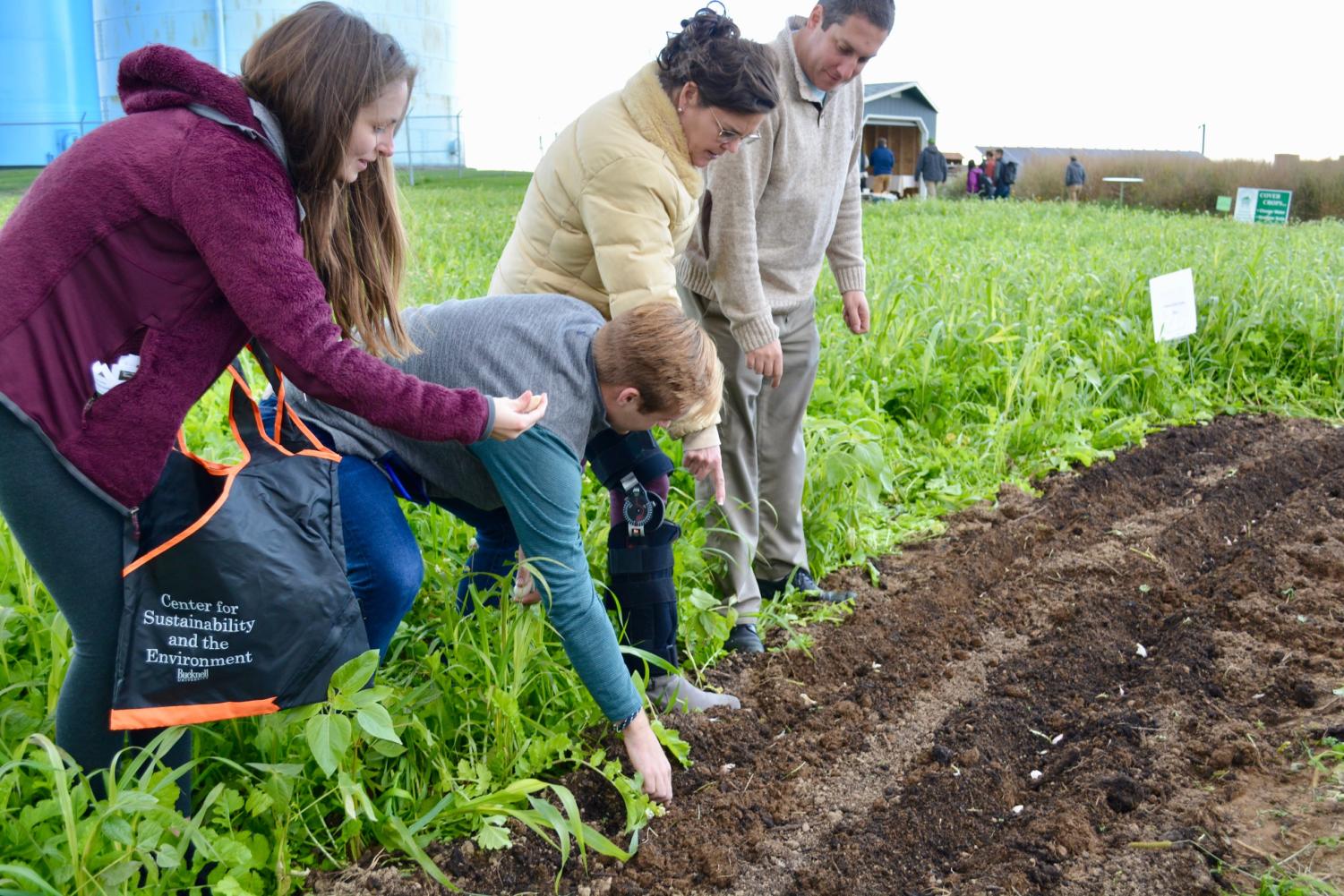 Student volunteer opportunities: get involved on campus and locally
Many clubs and organizations on campus contribute to active service work that benefits Bucknell, Lewisburg, and other surrounding towns and communities.
The volunteer spirit of students reflects Bucknell's mission statement that "students serve the common good and promote justice in ways sensitive to the moral and ethical dimensions of life."
Many of the different service opportunities are looking for more student volunteers. For more information on volunteer work, students can contact Director of Community Services Lynn Pierson. Engaged Bucknell was also created to educate students about different types of volunteer work through their website.
Lewisburg Community Garden
The Lewisburg Community Garden is a joint project between the City of Lewisburg and Bucknell. The community garden is located at the intersection of North Water Street and St. Anthony Street.
Since 2012, the joint project has produced thousands of pounds of food for donations. Bucknell students were able to produce 3,800 pounds of food which was then donated to food banks and local communities in 2017.
Bucknell University Farm
Bucknell University Farm was built on the success of the community garden. Established in 2018, the farm helps solve the problem of food insecurity by growing organic produce for the community and supplying Bucknell's student pantry.
Many students volunteer on the farm to meet course needs, but find the work so rewarding that they return to volunteer with enthusiasm.
"I started volunteering on the farm as a junior due to a class requirement, however, I continued working on the farm because I think it was one of the best experiences. more authentic than I've had living here," says TJ Killian '23. "Working at Bucknell Farm gives me time to get away from the hustle and bustle of everyday life at Bucknell and just be with my thoughts. I love going to Bucknell because of the diverse and unique experiences the students have undergraduate here, and I think Bucknell Farm is a perfect example of that.
The farm is located on the hill above the South Campus Senior Apartments. For more information on volunteering on the farm, contact Jen Schneidman Partica.
Greek Life Philanthropy
Greek life at Bucknell represents 37.9% of the student population. Each Greek Life organization has a specific mission or philanthropic collaboration that is important to its chapter. The organizations strive to raise funds through many different activities on campus throughout the semester. The Philanthropy Chairs of the Delta Gamma, Alpha Chi Omega and Sigma Chi Chapters were able to share their Chapter values ​​regarding volunteer work with The Bucknellian.
The philanthropic organization the AXO sisters collaborate with is Transitions, which is a crisis center that provides advocacy, empowerment and education services to end patterns of domestic violence.
"We are very passionate about working directly with our local Lewisburg women's shelter, Transitions of Pennsylvania," said AXO Philanthropy Chair Emilie Tristano '24. "We work closely with Lisa Eroh, the director of Transitions on various fundraisers, educational opportunities and outreach programs to provide care and services to survivors of domestic violence and sexual assault."
The willingness to get engaged and volunteer is also reflected in other sororities at Bucknell.
Delta Gamma's national philanthropy is Service for Sight and they work locally to support this initiative and to raise funds for the organization.
"Since high school, I have always had a passion for volunteering," Victoria Hall '24, a frequent volunteer in the Lewisburg community and member of Delta Gamma, said. "It's how I gained some of my closest friends and learned some of life's most important lessons. Coming to college, I wanted to continue my enthusiasm for helping others.
Hall also volunteers at other locations in Lewisburg, with one of her favorites being Elmcroft – a local senior community.
"A special activity I do there is painting women's nails and playing board games with them. Being able to have conversations with them and learn more about their history is something that has become very special to me," Hall said.
Her dedication to volunteerism is what led her to become the philanthropy manager for her sorority.
"This experience has allowed me and my sisters to become more evolved in the Bucknell community. Volunteering has become a big part of my life and I think it's an activity that can be really enjoyable for everyone," Hall said.
The fraternities are also involved in voluntary work.
Sigma Chi's philanthropy is the Huntsman Cancer Foundation, which aids in cancer research and treatment.
Through a week-long event called Derby Days, the Sigma Chi brothers engage in events with sorority members to raise money for the Huntsman Cancer Foundation. This year in particular was very successful, with Sigma Chi raising over $110,000 for the Huntsman Cancer Foundation.
"I think Derby Days really captures the attention of the entire Bucknell community," said Nicholas Sperduto '24, Sigma Chi's Chairman of Philanthropy. "It's a full week of fun through competitions and games, but more importantly, it's a time to reflect and support all those people who have been touched by cancer. As a chapter we definitely aim to raise as much money as possible, but I think the ultimate goal is to raise awareness, to be part of a force for good and to remind people that they are not alone in the battle.
These three Greek life organizations are just a few examples of the philanthropic and volunteer work that fraternities and sororities do on campus.
Snacks
The Snack Pack program provides meals in brown bags twice a month to approximately 250 children in the Lewisburg area.
The goal of this project is to provide quick and easy meals to low-income students in Lewisburg school systems. Student volunteers as well as Bucknell alumni help distribute these bags and keep the program running smoothly.
Deputy Community Director Sarah Farbo said the most crucial donations for the program are "gift cards to Giant, Weis, Amazon, etc. so more nutritious food can be purchased for the bags."
Snack Packs is always looking for volunteers and donations – interested students should contact Sarah Farbo ([email protected]) for all questions.
Evangelical Community Hospital
Located in Lewisburg, Evangelical Community Hospital has been meeting the health needs of college students with professional care since its opening in 1953.
Many students volunteer at the hospital and it is a great experience, especially for students who are pursuing healthcare related fields.
"In high school and at home, I've always been involved in volunteer activities, especially when it comes to planning my future," Ally Neuendorff '24 said. "In school for almost a year, I volunteered weekly at the Evangelical Community Hospital in the emergency department. While I appreciate being able to give back in my spare time, I'm grateful that alongside my plans to go to medical school, it's in an environment that gives me exposure to interacting with patients and a form of real-world experience.
Ally is just one of many students who enjoy giving back to the hospital that serves their college community.
Memories of former volunteers
Speaking with alumni, many reflected on their time at Bucknell and in particular the volunteer work they did.
"Looking back, the service opportunities I took at Bucknell were some of my proudest times in school, and I regret not having done more," said Patrick Hanley '22. "Opportunities for service within the campus community can be found everywhere, whether through courses taken or clubs and groups on campus."
Hanley said volunteering on campus is the most fun, but the most rewarding is in the Lewisburg community.
"I recommend that any student at Bucknell get involved in some aspect of volunteerism while on campus. It reinforces values ​​and skills while making others smile," Hanley said.
(Visited 30 times, 30 visits today)