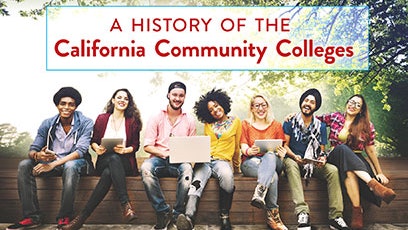 The Important History of Community Colleges
Today's educators and policy makers often struggle to address significant challenges, including unstable funding, fluctuating enrollment, college readiness, basic student needs, barriers to transfer, emergency preparedness, equity gaps and many more. Today's educational problems and how we respond to them will shape our future, just as the problems of the past have shaped our institutions. An understanding of the formation and continued evolution of community colleges provides important insights for those faced with solving today's problems.
Dr. George R. BoggsAs our country industrialized in the mid-19and century, the need for education and training was felt. The young nation was embroiled in a civil war when President Lincoln signed the Morrill Act of 1862, creating Land Grant Colleges and Universities, improving access to education beyond high school. A second Morrill Act in 1890 expanded access to higher education for African Americans. By the end of the century, there was growing concern about access to education and training for a growing population. William Rainey Harper, president of the University of Chicago, and David Starr Jordan, president of Stanford University, led efforts to allow high schools to expand their programs, eventually becoming junior colleges. Providing education and training access to lower division courses in high schools has allowed top universities to become selective and focus on research and advanced programs for upper division and graduate students .
Joliet Junior College, outside of Chicago, opened in 1901 at Joliet High School, serving six students. In 1907, the California Legislature passed the California Upward Extension Act, the nation's first state law authorizing the establishment of junior colleges. Fresno High School was the first institution to take advantage of the 1907 Act, opening its doors to 28 students in 1910. Junior colleges grew rapidly in California, and many of its policies and programs would shape college development across the country.
the Truman Commission report, published in 1947, changed the course of American higher education from "the instrument of production of an intellectual elite" to "the means by which every citizen, young and adult, is empowered and encouraged" to pursue higher education. The Commission's report marked the first general use of the term community college and recommended that they expand nationwide to provide universal access to post-secondary education. Spanning every state and shaped by forces such as the education and training needs of returning veterans, the baby boom generation, and the growing need for skilled workers, community colleges have changed the paradigm of American higher education from a paradigm in which students had to "go" to college to one that provided access to high quality, affordable higher education and training in local communities.
Our new book, A College for All Californians: A History of California Community Colleges, chronicles the development of community colleges in California and how they influenced expansion across the country. The evolution of California community colleges has not been without challenges. Policy makers struggled to define the missions of these new institutions and debated whether they should become four-year colleges. Governance shifted from school trustees and the California Department of Education to locally elected trustees and a board of state governors whose authority is limited by voters concerned about tax levels. The quality of faculty and course offerings was overseen first by the University of California, then the State Department of Education, then the Accrediting Commission for Community and Junior Colleges, their regional accreditor. The faculty, originally recruited from public school teachers, were granted status and protections. College funding has gone through a complex evolution as policymakers grapple with economic cycles, equity issues, and the willingness of state voters to pay them. Student services programs were created to support students and respond to the state and nation's interest in civil rights and the promotion of equity. Non-credit programs have sprung up to meet the educational needs of new immigrants, to provide short-term workforce training, and to offer community interest programs. Associations, interest groups, and unions emerged to defend the colleges, their programs, and employee groups. Athletic programs that were developed at California community colleges shaped how student-athletes were expected to compete at community colleges across the country, but disagreements caused a separation of programs and policies in California from those from the rest of the country.
Dr. Lawrence A. GalizioThe book includes some of the most important current and emerging issues that continue to impact community colleges, including the 2020 pandemic, mission expansion in baccalaureate education, student vulnerabilities, student protection DACA, Incarcerated Student Service, Development Education Reform, Guided Pathways and Performance Based Funding. The book ends with an epilogue that looks back on a historic year of challenges brought on by a pandemic and racial and political tensions.
Originally developed to offer the first two years of a bachelor's degree, community colleges have evolved into comprehensive institutions. They meet the post-secondary educational needs of communities in several ways. Understanding the history of their evolution and how issues continue to shape them is instructive for those who face today's educational challenges.
Dr. George R. Boggs is President and CEO Emeritus of the American Association of Community Colleges and Superintendent and President Emeritus of Palomar College in San Marcos, California.
Dr. Lawrence A. Galizio is President and CEO of the Community College League of California.
A College for All Californians: A History of California Community Colleges is published by Teachers College Press.
The Center Roueche Forum is co-edited by Drs. John E. Roueche and Margaretta B. Mathis of the John E. Roueche Center for Community College Leadership, Department of Educational Leadership, College of Education, Kansas State University.
This article originally appeared in the March 3, 2022 edition of Diverse. Read it here.