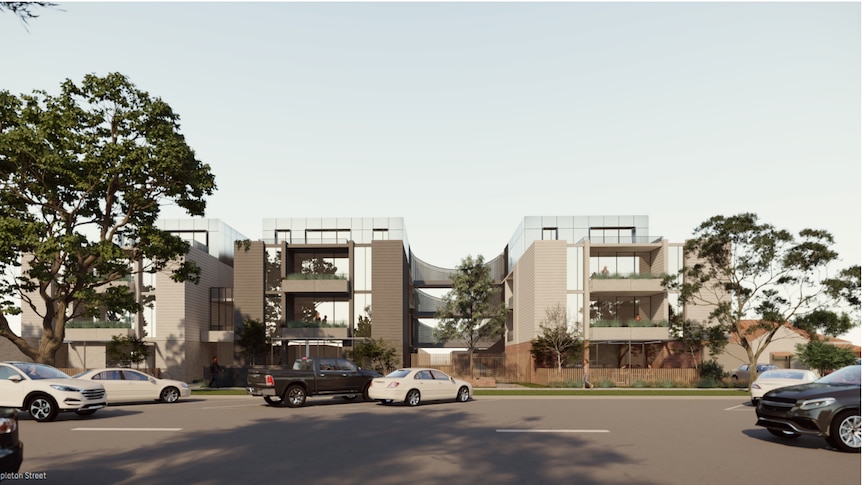 Wangaratta Council wins praise for approving ambitious multi-unit social housing development
As debate continues over the Victorian government's proposed council housing tax for developers, Wangaratta council has taken a bold step forward.
Key points:
Community organization Uniting Vic. Tas will build the new social housing development
There are nearly 900 people in the area registered with the social housing register
The mayor of Wangaratta hailed the Victorian government's proposed social housing tax
At this week's council meeting, all seven councilors voted to approve planning permission for a large new social housing development in the rural town.
"The fact that people need social housing is a big issue in our community, and we can't turn our backs on that," Councilor Irene Grant said ahead of the vote.
The development will consist of three separate four-story buildings containing 44 one-, two- and three-bedroom units in total.
They would be built on Templeton Street on a site operated by community organization Uniting Vic. Heap.
The organization aims to demolish the 16 dilapidated social housing units existing on the site.
Unite Vic. Tas housing and property general manager Kristie Looney said she was very pleased with the council's decision.
"We couldn't be happier," she said.
As of December 2021, 889 people on Victoria's Housing Registry had applied for social housing in the Ovens Murray area.
Ms Looney said the development was particularly important as it would provide a type of housing stock that had not been offered in the area before.
"There are people who have been waiting a long time to find something that will be more suitable for their needs," she said.
"They're going to be able to move around and live a pretty practical life there."
The "change of mind" celebrated
During the council meeting, the mayor of the rural town of Wangaratta, Dean Rees, mentioned the recent announcement by the Victorian government that it hoped to introduce a 1.75% tax on newly built developments with three or more dwellings. subdivisions.
The proposed levy has been controversial with developers, but if successful the money raised would go to a social housing growth fund, which would aim to build 1,700 new social and affordable homes in Victoria every year.
"I spoke to the old [Albury] yesterday Mayor Kevin Mack… spoke about social housing development and the backlog of the NSW Government," said Cr Rees.
"And one of the main things that came out of that discussion was that everyone deserves the safety and dignity of a home."
Ms. Looney told Uniting Vic. Tas was "celebrating" the Victorian government's proposal.
"I think it's a change in mentality," she said.
"Everyone deserves a home, and this is part of an initiative to ensure that everyone can benefit from safe, secure and affordable housing."
The development of Wangaratta is still dependent on increased funding from the state government.
Now that council has approved planning permission, Uniting Vic. Tas submitted a bid for the Victorian Government's Big Housing Build Regional Round.
Developing the "way of the future"
There were six letters of support for the development and 13 objections, most of which were addressed during the board meeting.
There was concern about the large development altering the skyline of the rural town, but it was pointed out that with huge demand for housing in Wangaratta and limited space, some densification will be required.
"I recognize the fact that this is a very big development. This is a new development in Wangaratta. We don't have anything like that," said Cr Irene Grant.
"But it's the way of the future in terms of housing, and I think we need to support that."
Ms Looney said housing projects like this ended up benefiting the whole community as they not only freed up other homes but would also help many residents get back on their feet.
She warned against preconceptions about social housing.
"Housing is the foundation on which you then build the rest of your life," Ms Looney said.
Ms Looney said that once a person had secured safe and affordable housing, it was much easier to link them to other services such as training, health and employment.
"I think social housing is the first step, and it only benefits everyone," she said.