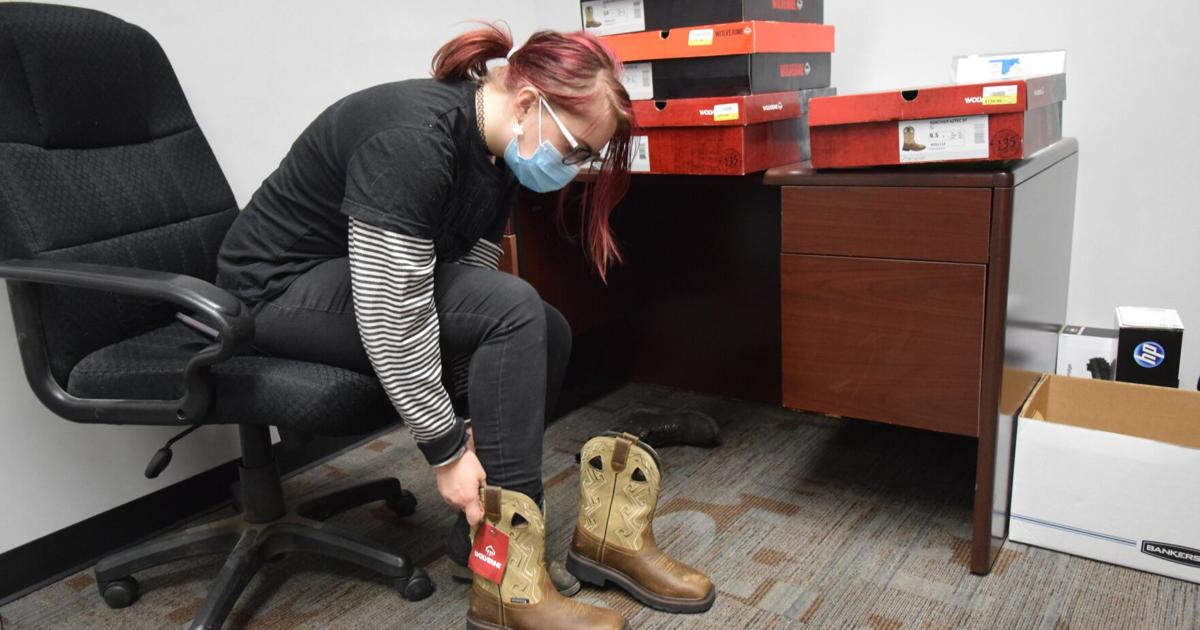 YouthBuild students receive new work boots to help with their projects | News
ENID, Oklahoma— These boots recently donated to students in Enid's long-time local program were built for the job.
Sixteen participants in this year's CDSA YouthBuild program cycle received new pairs of Atwood's Wolverine work boots this week to help them on the job, underwritten by local nonprofit Foster Feet.
Young men and women will wear them while continuing to help build social housing in Enid, while completing their high school diplomas and receiving numerous training certificates for nine months.
On Friday, the latest set of shoeboxes — ranging from $120 to $160 at Atwood — sat on a table in the office of Steven Ramsey, a young WEX/career navigator with the Western Oklahoma Workforce Development Board.
It and YouthBuild are located across from each other in the nonprofit CDSA Center at 114 S. Independence.
As such, Ramsey regularly provides job training and support services during YouthBuild's nine-month program cycles, which recently included finding new – and expensive – work boots for participants to wear while working. at a local home, he said.
"Luckily I was able to connect with Foster Feet, and they took care of everything for me," he said, before Patrick Anderson, with Foster Feet, arrived with the check to reimburse the expenses. . "It was awesome."
The non-profit Enid, launched as a youth service project in 2013 and now housed at the Central Christian Church, distributes over 1,000 pairs of shoes a year to young people in the Enid area, including 15 pairs per month to schools in Enid and Chisholm districts.
Despite the hurdles of the ongoing COVID-19 pandemic, Foster Feet has delivered over 300 pairs through September 2021, according to the organization.
YouthBuild also benefited from former Foster Feet shoe giveaways.
Another participant, Dante Romero, said students in this cycle would wear the boots to help work on the homes of low-income families in the community, as well as volunteering for Our Daily Bread and elsewhere.
"We really needed them, and that makes me very grateful," he said.
He and his classmates are currently painting a house at the YouthBuild site on 20th and Cypress.
In addition to regular site visits, YouthBuild participants alternate between academics and construction training at the nonprofit Center, said YouthBuild coordinator Rachel Harris.
Enid's is part of a nationally funded program that teaches basic skills and post-secondary education, construction training and community service.
High school dropouts ages 17-24 through YouthBuild are graduating, gaining job skills, and earning professional certifications through a partnership with Autry Technology Center.
A final round of eligible applicants completes a 10-day introductory 'mental toughness' program before the 30 entrants are chosen.
Hayden Robins said the program gave him a sense of family he didn't have before joining.
"It pulled me out of a dark place when I came here. …and now I've achieved most of my goals that I struggled with a year ago," he said.